Getting the Most For Your Painting
"Provenance is king. When you sell something, you want to know what it is, what's the story behind it, when and where it was made, and how to reach the right people - people interested in buying. This is more true of fine art than anything." - Elizabeth Hulings
You join a discerning group entrusted to care for a work by one of America's most important painters..
Some recognize their heritage in the work. Some admire the painter's technical brilliance. Regardless of the reason, the work holds its value on the secondary market.
My Father spent the years 1958-1961 in Europe and North Africa, painting, studying etc. He purchased an Opel when he arrived in Germany, and took it as far North as the Arctic Circle, and as far South as the Sudan. In late 1959 he was driving in the countryside near Alexandria, Egypt when a construction […]
Continue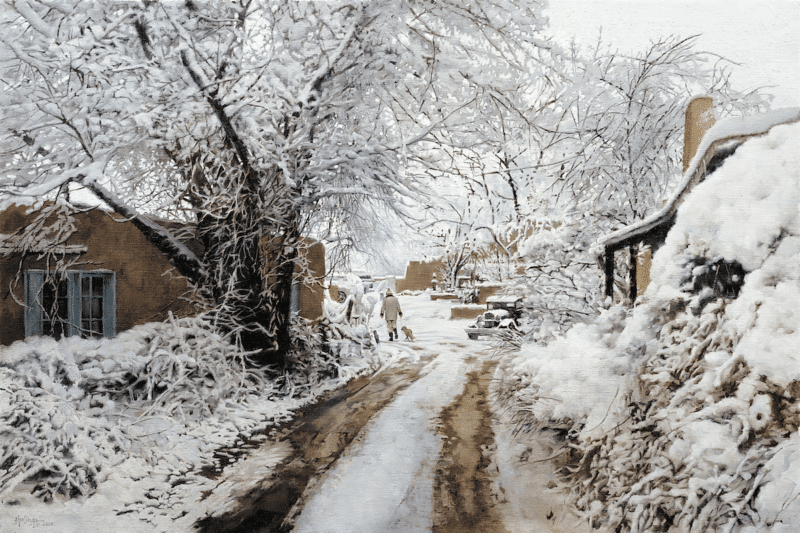 "Here in our high dry air and intense sun a scene like this is most beautiful in the early morning. The snow has not yet melted from the smallest branches and twigs. In this ancient barrio, the flat-roofed adobe houses and the walls are unchanged from long before the old Ford was new." – Timeless […]
Continue
Here's one from a batch of watercolors that my father painted while traveling around Scandinavia in the summer of 1959. He had struck up a friendship with a couple of German artists while studying in Düsseldorf. They had a tent and he had a car, so the decided to take a painting trip together. Apparently […]
Continue
"Fans of contemporary Western art packed Altermann's Camino Del Monte Sol galleries on Saturday, August 13, eager for a crack at the collection of the late Robert M. Eagle. A determined phone bidder won "Old Town," a view of the sleepy New Mexican town of Cerrillos in winter, for $96,000, including premium. The oil by […]
Whenever something is happening - auction, news, or other movement on Clark Hulings' art, you'll be notified.
Very occasionally, we may send a market update or a featured article on a painting by Clark.