Getting the Most For Your Painting
"Provenance is king. When you sell something, you want to know what it is, what's the story behind it, when and where it was made, and how to reach the right people - people interested in buying. This is more true of fine art than anything." - Elizabeth Hulings
Tell your favorite collector: it's here in time for the Holidays!
Glenna Goodacre has collaborated with the heirs of the Clark Hulings estate, Mary and Elizabeth Hulings, in what will be her final new work—a bas-relief of an iconic Clark Hulings drawing—"Helping to Push". This unprecedented collaboration, which includes both artists' signatures, is quintessential Goodacre interpreting Hulings at the height of his powers. This a rare opportunity to own one of 25 of these unique numbered editions. There's nothing like them and there will never be anything like them again. Thanks to Glenna Goodacre, they're here, in time for the holidays. Proceeds go to support the Clark Hulings Fund. Find out more.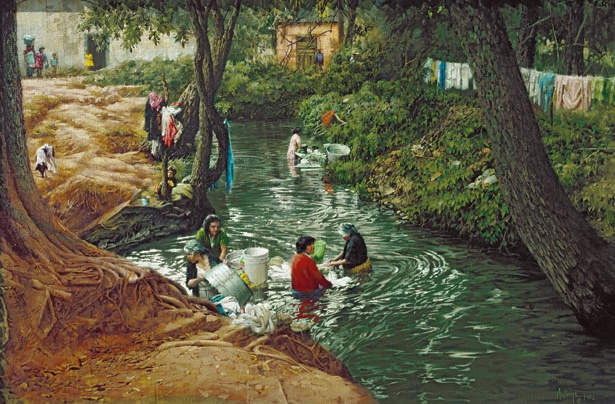 You join a discerning group entrusted to care for a work by one of America's most important painters..
Some recognize their heritage in the work. Some admire the painter's technical brilliance. Regardless of the reason, the work holds its value on the secondary market.
Georges Simenon was an amazingly prolific Belgian author, who was best known for his Inspector Maigret novels. He wrote 75 of them! The original title of this one was Maigret, Lognon et les Gangsters. Lognon is the name of another police inspector who is framed and then targeted for a mob hit. I guess when […]
Continue
This oil painting lives in Denver, CO. It's large by my father's standards, but the subject clearly required it. The scene is of the Santuario de Chimayó, a chapel in a little Northern New Mexico town about halfway between Santa Fe and Albuquerque. It's where John Nicols set the Milagro Beanfield War, the first novel […]
Continue
In honor of the upcoming thanksgiving holiday, I've decided this week to showcase a Southwestern scene. Those of us not raised in the Northeastern part of the United States have a different relationship with this holiday. Where in New England there were pilgrims, in New Mexico there were Spaniards, who arrived in the territory eighty […]
Continue
"An extensive array of paintings, drawings, ephemera, historical insights, and resources from one of America's greatest realist painters will soon be available for public consumption. Collectors take note!   Award-winning and revered American realist Clark Hulings is always on the tip of the tongue when discussing this country's most influential and celebrated representational painters. "For […]
Whenever something is happening - auction, news, or other movement on Clark Hulings' art, you'll be notified.
Very occasionally, we may send a market update or a featured article on a painting by Clark.