Put a Clark Hulings on Your Wall
Whether you're a new collector, a devotee, or just an art subversive who wants something a little different, there's a Clark Hulings master work that's just right for you. Prints, giclées, and even originals are available.
It sells for more when you DON'T go it alone. Estates, collectors, & auction houses: promotion or consignment options available.
What do you know about (your) Clark Hulings? Authentication, appraisal, referrals and permissions related to Hulings works.
Getting the Most For Your Painting
"Provenance is king. When you sell something, you want to know what it is, what's the story behind it, when and where it was made, and how to reach the right people - people interested in buying. This is more true of fine art than anything." - Elizabeth Hulings
Tell your favorite collector: it's here in time for the Holidays!
Glenna Goodacre has collaborated with the heirs of the Clark Hulings estate, Mary and Elizabeth Hulings, in what will be her final new work—a bas-relief of an iconic Clark Hulings drawing—"Helping to Push". This unprecedented collaboration, which includes both artists' signatures, is quintessential Goodacre interpreting Hulings at the height of his powers. This a rare opportunity to own one of 25 of these unique numbered editions. There's nothing like them and there will never be anything like them again. Thanks to Glenna Goodacre, they're here, in time for the holidays. Proceeds go to support the Clark Hulings Fund. Find out more.
You join a discerning group entrusted to care for a work by one of America's most important painters..
Some recognize their heritage in the work. Some admire the painter's technical brilliance. Regardless of the reason, the work holds its value on the secondary market.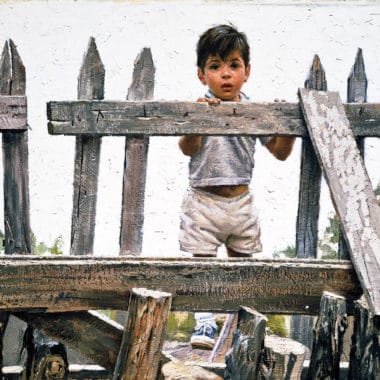 The little boy in this 1978 painting is now about fifty years old. Unlike his father, his hair is (or at least was) dark. Brothers named Vargas built the house I grew up in in Santa Fe: they were tall, with bright red hair and blue eyes. This Vargas boy clearly inherited his coloring from […]
Continue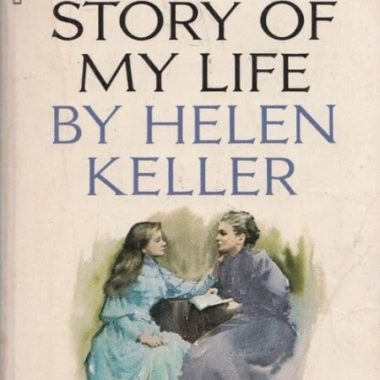 "Suddenly I felt a misty consciousness as of something forgotten — a thrill of returning thought; and somehow the mystery of language was revealed to me." — Helen Keller Clark Hulings' work graced the covers of hundreds of books during his years as a professional illustrator. The literature represents the full range, from fun pulp […]
Continue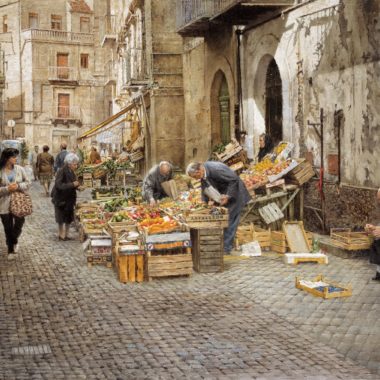 "It was to Enna that our Sicilian friends encouraged us to 'rush' should we encounter 'bandits' while scouring the countryside for painting material." In the days of Passover and between Catholic and Orthodox Easters, we're thinking of Spring, and the holidays that commemorate liberation and renewal of life. Feasting is often a big part of […]
Continue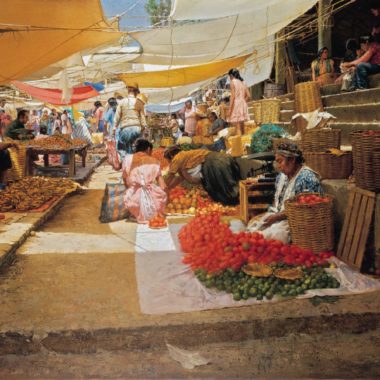 Clark Hulings' five signature pieces are featured in the 2018 Scottsdale Art Auction. The event marks the first time such a unique selection and number of Hulings' works are being featured in a group auction. The "Micro-Retrospective" of Hulings' works at Scottsdale includes paintings from four of the decades in the artist's long and vibrant career. They reflect his signature subject matter, including the burro, everyday people engaged in their work, Spanish and Mexican locations, and a still life that stirs endless interest by connecting disparate elements. For more information about the Scottsdale Art Auction, http://scottsdaleartauction.com; Clark Hulings, http://clarkhulings.com.
Whenever something is happening - auction, news, or other movement on Clark Hulings' art, you'll be notified.
Very occasionally, we may send a market update or a featured article on a painting by Clark.