Unprecedented "micro-retrospective" of Hulings' work spanning four decades of his illustrious 60-year career will be showcased in preeminent auction, Saturday, April 7, 2018, Scottsdale, Arizona
SANTA FE, NEW MEXICO – February 27, 2018 – A Mexican market bustles on a sunny day. Fruits and vegetables glisten in a variety of colors under a canvas tent. A woman dressed in blue and white sits among her basket of lush tomatoes quietly engaged in the business of her daily life. These composition elements represent one of Clark Hulings' most celebrated paintings, Kaleidoscope. This masterful work of art, along with four other Hulings' signature pieces, are featured in the pre-eminent 2018 Scottsdale Art Auction on Saturday, April 7, 2018, 7176 Main Street, Scottsdale, Arizona 85251.
Since 2005, The Scottsdale Art Auction spring event has grown from a $7 million to $16 million sale. The auction is renowned for its consistent, exceptional quality in works by living and legacy American Masters. Typically, Scottsdale sells one or two Hulings' works in the company of other noted Masters, including Thomas Moran,  Howard Terpning, and Carl Rungius. The 2018 event marks the first time such a unique selection and number of Hulings' works are being featured in a group auction.
Hulings (1922-2011) was a realist painter who captured the heart and soul of everyday people and their lives, from the Grand Canyon to Oaxacan villages, to Parisian traffic circle. The "Micro-Retrospective" of Hulings' works at Scottsdale includes paintings from four of the decades in the artist's long and vibrant career. They reflect his signature subject matter, including the burro, everyday people engaged in their work, Spanish and Mexican locations, and a still life that stirs endless interest by connecting disparate elements. It is also the rare opportunity to observe Hulings as an innovator, employing unexpected techniques, which at times departs from his classic choices, and even brings abstract inspiration to bear on his realist work.
"It's a real treat to see this representative combination of my father's works," said Elizabeth Hulings, Clark's daughter. "Every one of the pieces is top-notch."
Hulings' five masterful paintings spanning the 1960s through the 2000s include:
      Kaleidoscope 29 x 46," oil on canvas, 1980. One of the pivotal paintings of Hulings' career, it is arguably one of the strongest and more touted in the artist's oeuvre. With over 30 visible human figures, the vitality in this painting is created through a masterful series of choices about the positioning of color, and the internal architecture provided by the tarpaulins and the steps that point to the key figure; the woman in the blue and white dress seated between her scale and basket of tomatoes.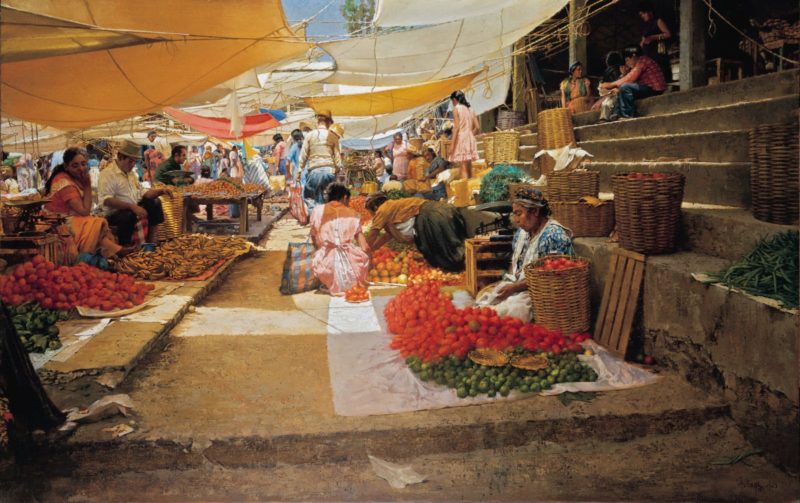 Serra #2 – Man Leading Donkey 30 x 20," oil on canvas, 1966. This painting is a rustic street scene in Valencia, Spain. Hulings called Spain home as a child and he returned there many times throughout his career. It is the earliest decade and only vertical, or portrait-orientation work in the group of Hulings' paintings being sold at the Scottsdale auction. This work has a burro that appears in many of Hulings' paintings as a symbol of resiliency. Several human figures illustrate the life of a working family reflecting a prevalent theme in Hulings' work: his focus on "everyday people."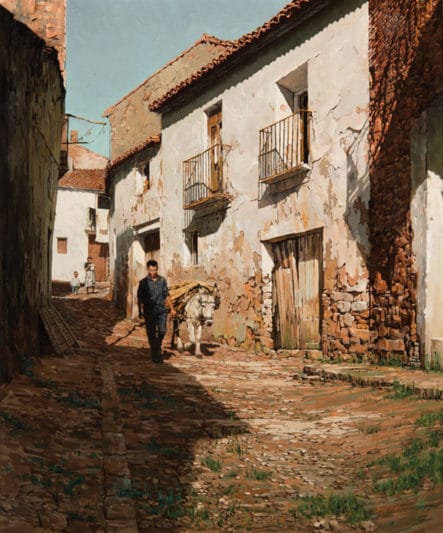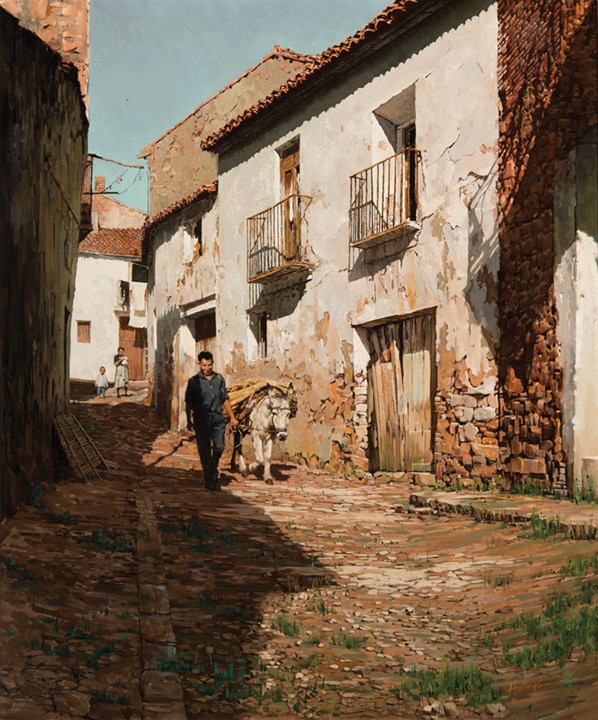 Still Life with Onions 20 x 34," oil on canvas, 1971. The painting represents another side of Clark Hulings. An engaging larger work with a palette of green, bronze, burgundy and gold, there are eclectic elements brought into relationship with one another, inviting the possibility of the viewer to invent their own story as to why they are there together — the empty wine bottle and assorted kitchen elements could be the morning after a good party. Notable here and unique among this group of paintings are the brush textures and unexpected color choices in the backdrop and tablecloth: there are not many realist painters who highlight with abstract expressionist moments, yet are able to integrate them so seamlessly into the figurative subject matter.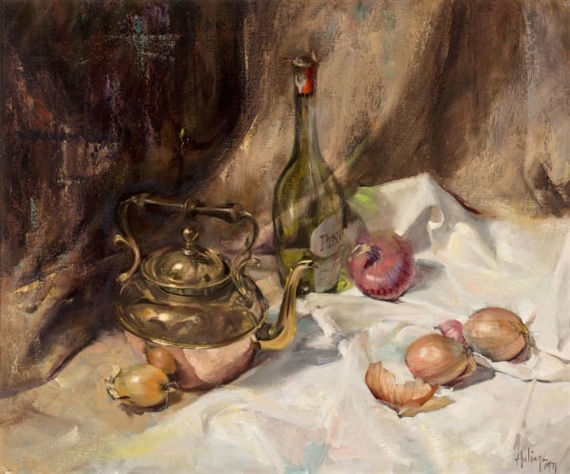 Ladies First 8 x 12," oil on canvas, 2003, is a study in the building blocks of composition. Set in Northern Spain with a whimsical title, the "lady" in the title is referring to a goat who is the first to drink from the water trough, which speaks to the artist's sense of mischief. The painting composition is anything but mischievous. It calculates the positioning of a man and two animals as a central triangle and the construction of a series of squares and rectangles around them.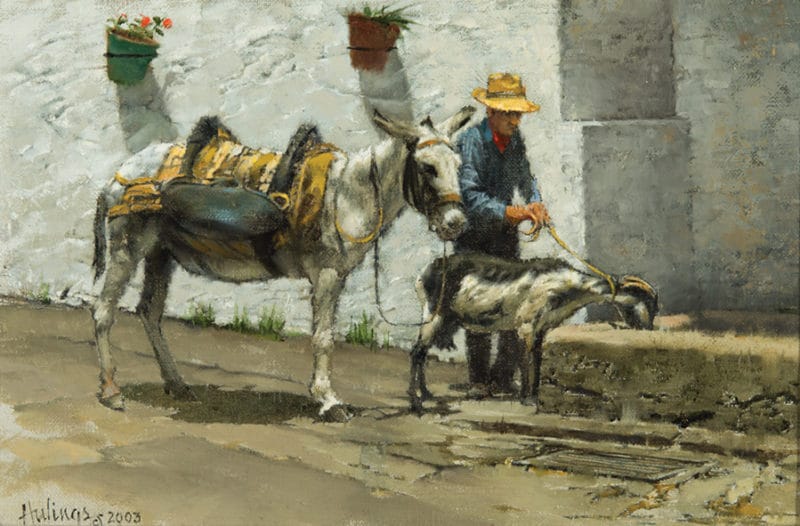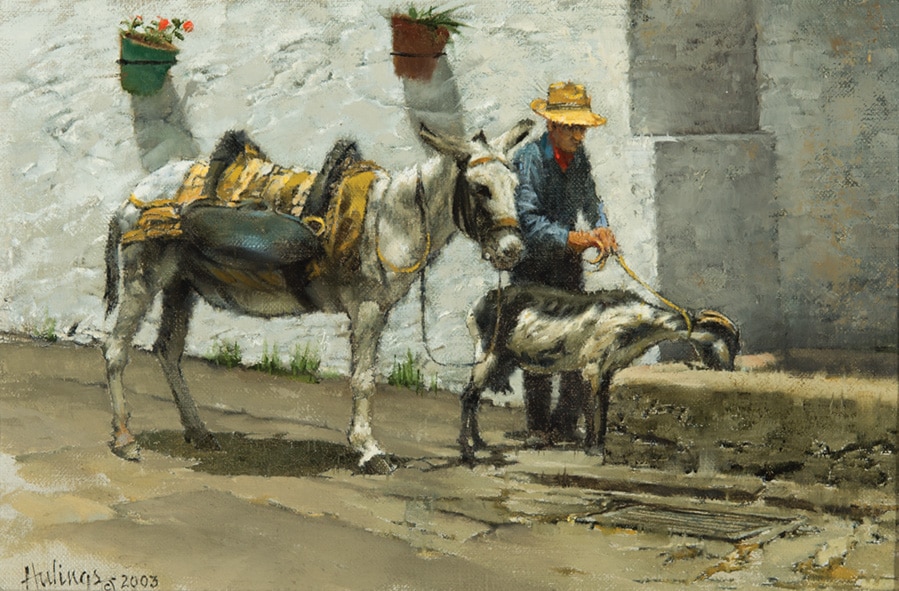 Burro 8.5 x 12.5,"  felt tip pen and opaque watercolor, Early 1990s. A representative piece from the early 1990s, it features a man in a hat on a donkey. Intriguingly drawn as a matching pair with heads inclined towards each other and facial expressions somewhere between curious and "mind your own business," these two cast a long shadow and are larger than life. This clever little study is a singular chance to enjoy the process of Hulings' work.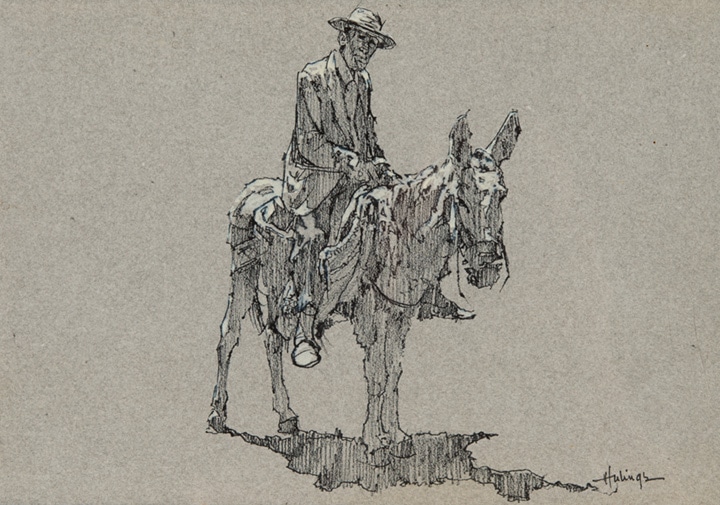 "My father was interested in everyday heroes," said Hulings. "He worked very hard and he liked to portray others doing the same."
"These pieces clearly reflect his respect for the beautiful struggle of life in which we all are engaged," she added.
"The iconic Kaleidoscope stunned the contemporary art market when it sold for $310,000 at the 1981 Western Heritage Sale in Houston," said Jack Morris, Jr., a founder of the Scottsdale Art Auction, and owner, Morris Fine Arts, Hilton Head Island, South Carolina. "This painting represents a once-in-a-lifetime opportunity to own a major work by one of America's master painters."
For more information about the Scottsdale Art Auction, http://scottsdaleartauction.com; Clark Hulings, http://clarkhulings.com.
Media Contact:
Susan Morrow
214-632-2711
smorrow@morrowpr.com