UPDATE: This Hulings' work went through auction on April 8 in Scottsdale and was sold for $175,000. That's a great outcome for a terrific painting.
I've been updating these Freshly Revealed posts bi-weekly, but thought I'd make an exception this week to share the story of this painting, which is also included in the upcoming Scottsdale Art Auction on April 8.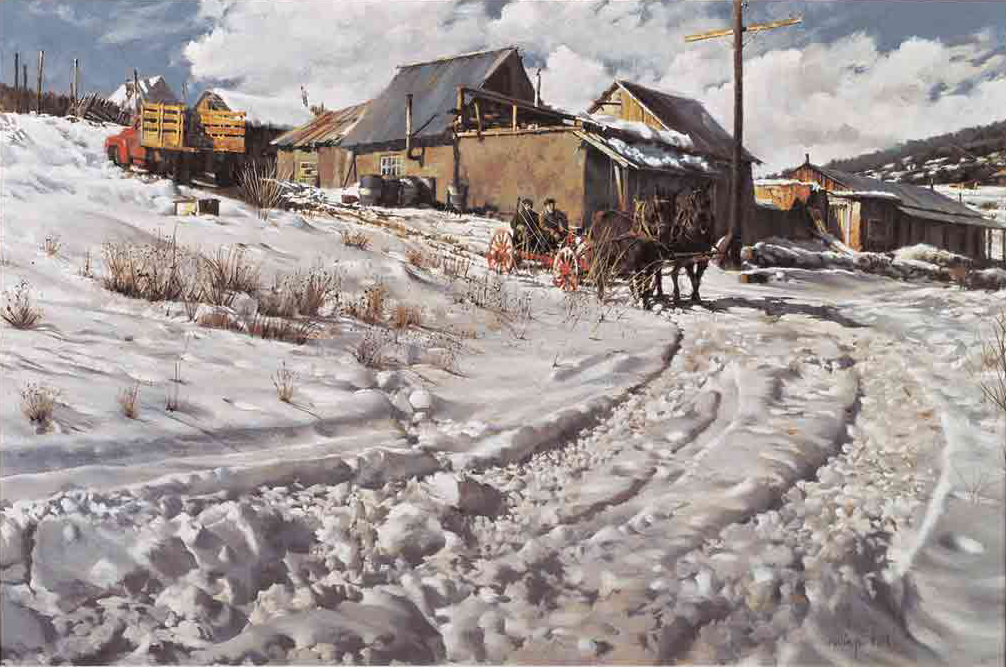 In 1974, my father painted this New Mexican snow scene from the hamlet of Lower Colonias. It was a big hit at the NAWA show that year, and one woman was heart-broken that she had been unable to acquire it. My father hardly ever painted the same subject twice (every burro is different!), but this lady just wouldn't leave him alone, and so finally, he turned back to his material from after that snowstorm in Lower Colonias, and he realized there was another angle that he'd enjoy painting. In fact, he got so excited about it that the second rendering is substantially larger than the first. Thus, we have Another View of Lower Colonias. The collector was thrilled, and my father was left in peace.
Both of the paintings are great examples of Clark Hulings' technique and composition. Sunlight on snow is tough to do well, but he was known for it, and when you look at these paintings, you understand why. If you'd like to try to acquire Another View of Lower Colonias, please visit scottsdaleartauction.com.
And please remember that I am writing a fresh post every week, just not inundating you with emails about them. Check out the website to read more.