"The portrait stops me dead in my tracks. In this piece I see Hulings moving from portraits in Louisiana, through illustration, to reaching for fine art."
We're so fortunate to have the chance to work with gallerist Jack A Morris Jr. A longtime friend of Clark's, and arguably one of the world's top dealers of Hulings' work, he's traded art for 55 years, founded Morris Fine Arts, opened commercial galleries in Houston, Dallas, and Santa Fe, and co-founded the Scottsdale Art Auction. Jack is one of our key partners in the art world, and he's an incredible detective when it comes to finding Hulings' work and highlighting its significance and provenance. We'd love to share some of his recent insights with you today:
The Story of Stari
"I bought an incredible painting at Capsule Auctions in New York this morning. It appears to be in the original frame, with a Grand Central Gallery sticker on the back. It is dated 1967, and is in Hulings' journal as Yugoslav Man (Stari?). Stari is the title on the sticker. It appears to be the same subject as the earlier watercolor Yugoslav Man.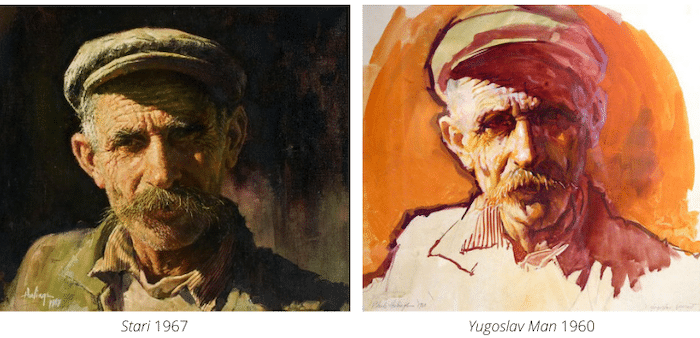 The thing that intrigues me is that the frame on Stari is what's called a "chop frame." It has authentic rustic wood and the corners are mitered, but not finished. The lip, however, shows some gold leaf, and the general design looks like what Clark wanted.
Later, I believe Walter Skor took what Clark wanted and made the early frames for his shows at Grand Central, ultimately creating the Skor Frame Company's "Hulings" frame CH1, CH2 etc.
I'm sure all of this played into the romance of my interest in Stari today, but it is the portrait itself that stops me dead in my tracks. In this piece I see Hulings moving from portraits in Louisiana, through illustration, to reaching for fine art. It is, in my opinion, a powerful painting/portrait…a Rembrandt subject.
When compared to the 1960 Yugoslav Man, the bold black line of illustration on the left edge is gone; the eyes are not centered, but reveal a personal history; the face and cap both have a film of dust that says this man is part of the earth; the dappled light on his chin is like the cobblestones of his streets or that filtered through trees; his mustache has the wisp of hay and the fields that appear in so many of Clark's paintings; the strong shadow on the right is not a wash, but a bold architectural shadow that has been one of the building blocks of Hulings' work throughout his career."
Oil & Water
Elizabeth Hulings notes that in Hulings' transition from watercolor to oil, there was an era where he would repeat subjects, resulting in these kinds of paired paintings—so we can now compare the oil and watercolor iterations. In fact, Elizabeth had Yugoslav Man in her New York home and has just picked up Stari on Jack's behalf, so they are actually together in real life at the moment. As many of you know, there is a major Hulings book project in the works, and our author James D. Balestrieri is researching these doubles.
Old Bridges & Old Men
Incidentally, "stari" is the Bosnian word for "old"—if you look it up, you'll see references to the now reconstructed Ottoman-era bridge, "Stari Mostar" or "Old Bridge" that connects the two sides of Bosnia-Herzegovina. Hulings painted the original bridge several times, most likely using the source material from his 1959 trip to Yugoslavia that inspired these portraits as well.