"In my mind there seemed to be a kinship between makers of Russian theatrical masks and makers of Hopi Kachina dolls."
One hallmark of Hulings' compositions is the seamless weaving together of elements from different places and times—culled from his photographic archives, plein air sketches, and other source material. Even smaller works usually derive from what he referred to as his "recipes," and his models for large-scale, impossibly complicated works are all about getting the recipe right. That's one thing that makes Kachina Doll Maker-Sketch so unique. From it came a large, complicated painting (which you can see below), but one that is very different, and that was not thought of until after this model was finished. The biggest departure in terms of process, though, is that this scene sprang from Hulings' memory of another artist's work, and his own imagination.
In Hulings' Words from A Gallery of Paintings
"This painting was inspired by one called The Mask Maker by the Russian artist Abram Arkhipov. In 1974 Mary and I spent some time in Leningrad and Moscow, where I discovered the work of many wonderful realist painters I had never heard of. At that time few paintings by these artists had been reproduced, even in Russia, and the only records of them I could bring home were the few slide photos I was permitted to take […] The ones of The Mask Maker were good enough to refresh my memory of that fine painting. In my mind there seemed to be a kinship between makers of Russian theatrical masks and makers of Hopi Kachina dolls."
He decided to create his own version, which just got him more excited about the theme, and led him on a quest for material with which to create a full-scale Native American iteration.
Model Craftsman
Hulings' search for "the right model" for the large version was long and extensive, but eventually fruitful: "One day, after several months of asking around, a friend suggested that I attend the annual Indian Art and Crafts Show in Santa Fe. I introduced myself to George Pooley, the son of Emil Pooley, reputed to be the finest Hopi Kachina doll maker. I persuaded George and his wife to come to my studio to see my work and hear about my project. I showed him this oil sketch of the proposed painting which I had done from my imagination. George was sympathetic to my idea. He loved his father, revered him as an artist and wanted him to be painted for posterity. […] About six months later I received a call asking me to go to their home near Windowrock, Arizona. I was to be allotted only an hour of his time. […] I painted my picture and shortly afterward Emil Pooley died. He was a gentle man with a fine talent. I am glad to see that his dolls are being increasingly appreciated as works of art. I am glad also that the present owners of my painting were for years personal friends and admirers of Emil Pooley."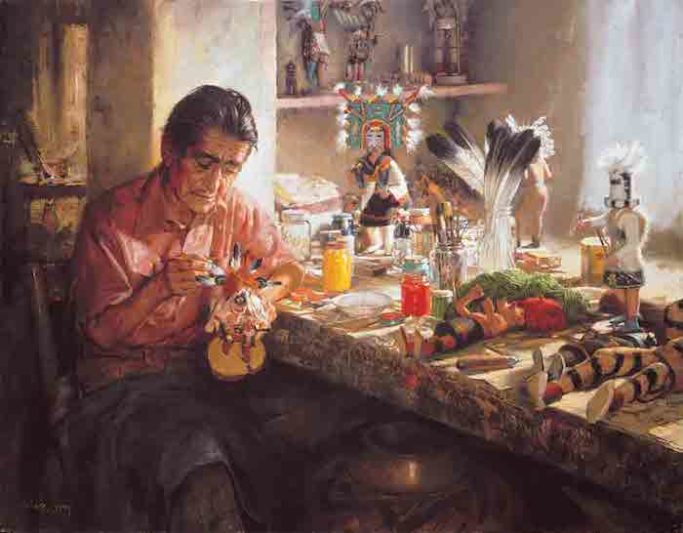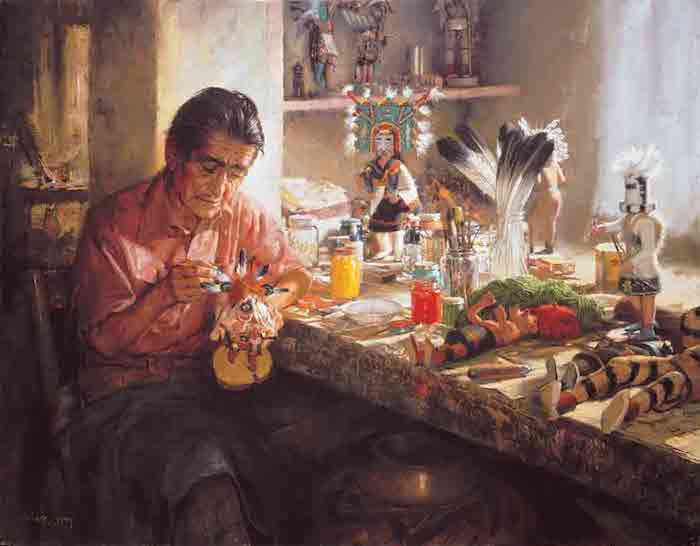 Art History at Home
Both of these paintings are unique in the Hulings body of work, and A Gallery of Paintings has facing pages featuring the full story and two beautiful color plates of the imagined Russian and the real-life Hopi; it's available from our online store should you wish to study them further.