"In The Pink Serape, there's busyness and a focal point. There's a lot going on: the movement, the energy, the colors. I go back to this painting over and over again, and each time the story unfolds, it's a little different."
Indianapolis' Stephen Zimmerman is an art collector, a St. Louis Cardinals fan, founding member of the Secession Golf Club, a tournament bridge player, (in his words) a "former Wall Street Guy," a founding Board Member of The Haan Museum of Indiana Art, co-founder of the Western Art Society at the Eiteljorg Museum, and a member of the Advisory Board of The Clark Hulings Foundation. As a caretaker of some of the major paintings in the oeuvre, Steve is in a unique position to offer insights into Clark Hulings' work. Steve & Sharon Zimmerman's five Hulings paintings span five decades, and the work is in good company in an art collection of over 130 pieces.
Family Descent
Speaking of numbers, Steve's "Art Man-Cave" has over 3,500 art books (and a cat), and the room and the traditions it represents have been many years in the making. His introduction to Hulings' work was in the late 1980s at the Artists of America Show in Denver. About ten years after that, Steve saw Hulings' La Bajada on the cover of Art of the West: he instantly knew he wanted this sunlit Mexican family scene and later successfully bought it from Coeur d'Alene Art Auction. The auction's co-founder, Bob Drummond, gave him a limited edition, green leather-bound Clark Hulings book with an original drawing in it, and Steve was hooked.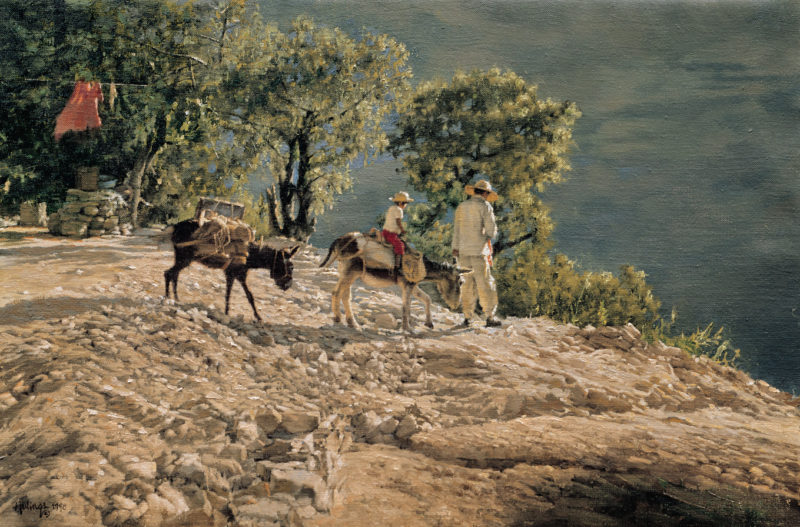 "In this painting," Steve says, "it looks like they left the marketplace, and they're on their way home. The little boy is tired, and that's why he's on the donkey, and it looks like they bought something. I like that the edges are softer-looking. It's not photo-realistic with hard edges."
Armchair Travel
Steve loves the theme of travel in Hulings' work. "Clark Hulings touched so many parts of the world, such as Portugal, Morocco, Mexico, Luxor…all over. You can travel the world in your armchair with his work. He collected images to share with you: he shared things that are no longer with us." Steve notes that painter Reginald Marsh, from the Ashcan School, also represented this tradition of capturing moments in time and place.
Unfold The Story
Steve's relationship with The Pink Serape is a love story. He first saw this busy street scene in A Gallery of Paintings book and was getting to know the Hulings style. "I'd met Clark in person at that point, and had dinner with Mary as well!" After Kaleidoscope had broken records in art sales in the early 1980s, Steve was on the lookout for Hulings' Mexican market scenes, and was then able to snatch up The Pink Serape from The Santa Fe Art Auction. It now proudly hangs in his "Art Man-Cave," with featured lighting that makes it a main focus of the room. It's a  conversation starter with his guests, and Steve tells them the story of why he loves the work, and why Hulings is one of his all-time favorite artists:
"In The Pink Serape, there's a busyness and a focal point. There's a lot going on: the movement, the energy, the colors. The values here are subdued, unlike some of his paintings. I go back to this painting over and over again, and each time the story unfolds, it's a little different." The fact that you can create your own story is part of the nuance of Hulings' skill, and Steve's daughters both love that aspect of Hulings' work as well.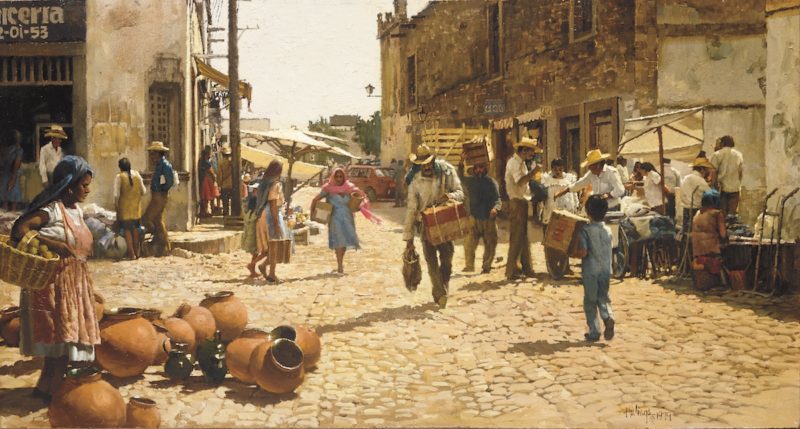 I Can See That
Steve's excited about the upcoming book about Clark Hulings' work, in which writer James D. Balestrieri is going beyond a biography or catalogue raisonné. The book tackles the major themes and artistic accomplishments of Hulings' career and situates him among his peers and antecedents in art history. "Jim's writing has a fluidity to it. It produces a narrative that, once you get in, has almost a melodious sound as you read and absorb his interpretation of a painting. He gets you to a place where you can say: 'I see that.' I think that's the mark of a great art critic."
You Could Be Next!
We're incredibly lucky to have the chance to work with collectors of Stephen Zimmerman's caliber, who are our partners in taking care of Hulings' work. If you're a Hulings collector who would like to share your art story, we would love to find out about you and your connection to your paintings! Just email info@clarkhulings.com
Be Part of Something Great
Hulings Collectors and Fans are essential to Hulings' legacy. Join Steve and the community of art lovers behind James D. Balestrieri's book, Clark Hulings: Quantum Realist. Give securely here.
---
Thank you Steve, for sharing your story and your paintings with us! We thought our readers would be interested in the other three Hulings paintings in the Zimmerman collection…